Creating unique event experiences in a fuss free manner.
Started in 2013, Satire Singapore kick started Le Gluttony, a festival concept that celebrates local culture, F&B entrepreneurs and art talents through a showcase of films and music. It is Satire's mission to act as a breakthrough opportunity for the Singapore underdog scene.
It's an outdoor movie screening experience, music festival and food bazaar all unified into one big culture celebration.
Specializing in engaging food, film, music acts and vendors, we are able to conceptualize your ideal event. Leveraging on our community of vendors, we are able to engage the right vendors for your event. Concurrently, we do hope to provide the exposure for our partners and vendors to exhibit their potential and promote artistic and entrepreneurial activeness amongst fellow Singaporeans.
Tap on our dedicated team to conceptualize and create unique brand experiences. Rest assured, our logistics expertise and creativity will create the ultimate event experience for your ideal event – down to family day events, movie screenings, carnivals, corporate events and exhibitions.
Application of necessary event licenses – ie, NEA, IMDA, SCDF, SFA etc
Family Day & Carnivals
Dinner & Dance
Virtual Events
Conferences
Road Closure
Market Curators – F&B and Retail Vendors
Engagement of Food Vendors – Hawkers & Gourmet Food Vendors
Engagement of Flea Vendors
Engagement of Musicians
Fabrication of branded photo opportunities
Media Production
Emcee Engagement
Organizing Art Workshops
Tentage & Electrical set up  – ie, Tentages, Generators, Lights etc
Water & Electricity Management
Fairy Lights Set up
Thematic Decoration
Concert Stage Set up
Outdoor movie screening set up
Audio & Visual Set up
Virtual Event Set up
Video Production
Live Feed streaming services
Professional photography services
Outdoor advertising
On-ground engagement
Media buys across various media platforms
Digital Marketing initiatives
Sponsorship Engagement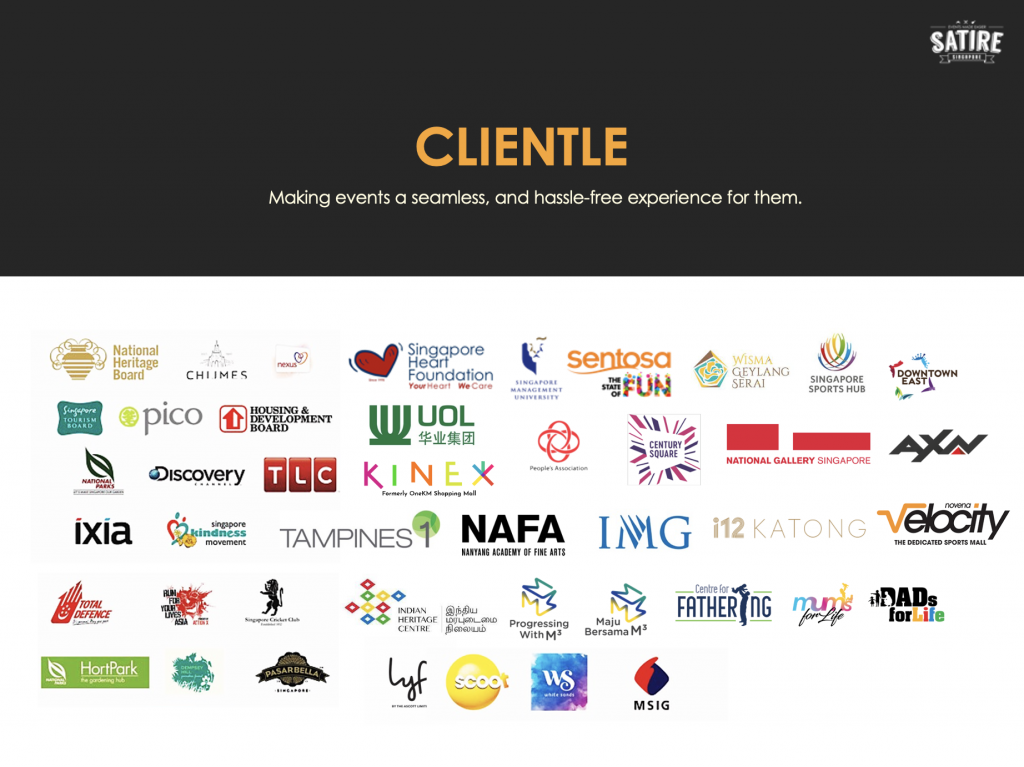 Everything You Need to Help Your Business Grow.
While creating inspiring work for our clients, our goal is always clear: To conceptualise and produce brilliant on-ground concepts that look great and most of all help your brand or cause to grow. However, we think that is only half of the equation; our clients happiness is the most important thing to us. If you're not satisfied, we have not succeeded.